2012 West Cost Show
This past May I attended the West Coast Show in Santa Ana, California. I would posted this sooner but was distracted by an unexpected family matter... Hence, the delay in getting this posted.
I decided to turn this into a motor marathon by staying in five places five different nights in a row. California is a pretty big state and when you live at one end and the show is at the other end it takes a bit longer than you think to get where you want to go. There is also the need to try and time your entry into the great Los Angeles basin since there are A LOT of cars that seem to inhabit the freeways at times of the day. Rather than fight 30 miles of stop and go I opted to stay the first night outside of LA and would get an early start to make it to Santa Ana before the four wheeled herd came to life and clogged the roadways.
I grew up in Whittier and Fullerton and this region was much different back then but I am waxing philosophical so forgive me...
Mary Zinn moved the show to this new locality in Santa Ana a couple of years ago and it is very easy to get to either by car or plane as the John Wayne International Airport is just a couple miles away and one of the myriad freeways in this area runs right past the Holiday Inn hotel there in Santa Ana.

The Holiday Inn in Santa Ana where the show was held.

Some folks are really, quite simply, unclear on the concept when it comes to parking...
I arrived in Santa Ana early in the morning and checked into my room at the La Quinta about 300 feet from the Holiday Inn and then moseyed over to the show to see what I could find. My first stop was visit my good buddy Isaias Casanova. Isaias was offering Tsumeb specimens from the John Schneider collection. Lots of interesting specimens and I will have some to post at a future tsumeb.com update. What caught my eye though was this specimen of "cuproslodovskite"... Isaias took a large portion of "caca" in good humor for this blunder but I wanted to make sure everyone knows that even seasoned mineral dealers can mess it up once in a while....me included!

There you go Isaias... Now everyone will know...
In the ball room I found John Seibel already set up - no surprise there. It was no surprise either that I wrote a check to John for specimens I found in his booth. The rhodochrosite from N'Chwaning caught my eye immediately. There were several others and then I moved across to see Leonard & Linda Himes .

5.1 x 3.0 x 2.3 cm specimen of rhodo from N'Chwaning.
Leonard had specimens of fluorapatite from a new find at Mt. Mica in Maine. These are found on matrix of albite and the crystals have lustrous prism and pinacoidal faces but have strangely formed transitional faces that appear rounded between the prism and pinacoidal faces. They are nonfluorescent under SW UV light and are weakly colored blue to violet to very pale green. Leonard has high hopes for this new find to produce more specimens in the future. I bought two of the 8 specimens he had and several other interesting pieces to add to an update.

8 x 6 x 5.6 cm specimen with numerous crystals of fluorapatite to 1.2 cm.
Also at the show was Luiz Menezes. I was very happy to see Luiz again as he's been struggling with some health issues which prevented him from going to the Munich and Tucson Shows. Luiz and Carlos had their usual array of fine specimens from Brazil and also a new find of "cat's eye" fluorapatite from Itarana, Epsirito Santo, Brazil. All of the crystals he had were in the TN to small miniature size range. Most of tee crystals, not all however, are actually bi-colored with very pale shades of pink merging into the more common pale green color. They also have varying degrees of silky inclusions providing the cat's eye effect when cut. I picked up six specimens for this update.

2.3 x 1.3 x 0.8 cm crystal of the new fluorapatite.
My time at the show was actually short as the next night was spent in Temecula. I had made arrangements with Mark Mauthner to get an underground tour of the Oceanview mine in Pala and had also invited two friends from my Troy high school days to join me Ronna & Greg Voisan and their son Nate. We all got to the gate at around 9:15 or so and waited for Mark to meet us. Mark arrived and led us up to the mine site. Once there we were issued hard hats and then went on to view the Oceanview mine underground and also the upper Pala Chief mine area.
I have a rich personal history with this place. Back in the late 1970's I took a mineralogy course at Fullerton Jr. College. This course, taught by Pete Tresselt, opened my eyes to the world of minerals. It really changed the direction my life was headed. Anyway, some fellow geology classmates (Perrin Fulmer, Jon Eton, Jim Gaurhan, Russ White, Eric Owens, John Bailey and others) from my mineralogy class and I would head down to Pala to see what we could find in the dumps. It was a different world back then. We would pay the Pala Tribe $1 to tresspass across their land and then stop on the back side of the Stewart mine first, poke around, get weary of finding mostly nothing, then move further up the road to the base of the Tourmaline Queen mine. There was a small grove of eucalyptus trees where we would park and then start up the steep trail until it intersected the ephemeral drainage that thousands of tons of Queen mine material had been dumped into over the years. It was a SLOW 2 inch per minute climb from there as you could find tourmaline, morganite, spodumene, garnet, quartz crystals, and more by simply looking down as you climbed up. To walk any faster was to give up a potential find to the "other guy". And after a significant rain storm it was a race to get to Pala before anyone else since that meant water had moved the dump material around a bit and it was literally littered with stuff you could not help but pick up. I remember once having to take my pack down to my car, unload it, and then haul butt back up since someone else came as I was headed down to the car, as I had found too much stuff to carry in one haul. That was a very memorable day. My most memorable day, however, was in January 1985 when I finally made it up to the top of the dump and the mine was wide open. It had always been shut tight as drum before with KEEP OUT signs posted everywhere. After two hours of going back to my car and into town to get what I needed to go under ground I was STUNNED to find a pocket of tourmaline that had been left uncollected less than 35 feet from the entrance of the mine. I wish I could have stayed as long as I needed to to clean that pocket out but couldn't. Later that same week the late Byron Weege made the trek up and finished what I should have... Anyway, I can't really count all the times I came to this place which will always have a special place in my brain for good memories.... Pala has also changed a lot since the 1970s with the opening of an enormous Indian casino. It used to be a sleepy little "berg" and it is anything but that now.

On the road up to the mine the Voisans are ahead of me. It was a spectacular day!

Inside the Oceanview and Mark pointed out all the lath shaped minerals which are
mostly clay altered remnants of kunzite crystals. Note the darker violet lepidolite.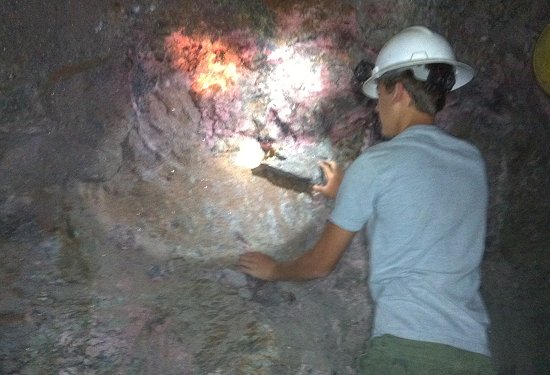 Nate Voisan dislodging a large specimen of lepidolite inside the Oceanview mine.

Mark pointed out another large quartz crystal pocket zone that they had left as a tour highlight. I believe
that Rick Kennedy came by a few days later and got permission to remove it. Here it is though in situ.


Up near the Chief mine I took several pictures and spliced them together for a panorama shot. This offers a sweeping
view of the Stewart mine on the left and the Tourmaline Queen mine on the right.I spent many, many, many days back in the 1970's
in this area especially walking up the steep drainage to the Queen mine looking for tourmaline crystals... Nice memories for me.

Back above ground Mark showed us the prized "Big Kahuna" kunzite crystal and a 200+ carat cut stone from the same pocket.
If it is possible to have mineral lust then that must have been what I was experiencing when I was actually able to hold that beast for a few moments...

The Oceanview team have quite a setup for their fee dig operation with water tables and screens. $60 per person for a day of
finding pegmatitic minerals such as beryl, tourmaline, lepidolite, spodumene and just about anything else that might form in one.
I bid farewell to my friends and Mark around mid afternoon and headed towards Fresno where I spent the night .

Descending the "Grapevine" on I-5 with the expansive central valley of California in the distance.

The next day I spent some time visiting Hilda Forrest and her two sons. Hilda was the wife of the late Bill Forrest - former co-owner of the Benitoite Gem mine. It was an enjoyable visit looking at some of the specimens that they still have that Bill had worked on. After that I drove west across the coast range on to Santa Cruz to visit with Jerry Rosenthal. Jerry has a stunning collection of minerals that he has assembled over the last 10 years or so. He also had several flats of minerals he was parting with which I have included in this update. My last night was in Santa Cruz and then the drive home back to Weaverville. Five nights, five different places and one totally mineralogically saturated JV.
My next mineral adventure will be to the East Coast Show in early August. Until then I will be actively cleaning benitoite mine material for the Denver Show later in September.
Join the mailing list for Trinity Mineral Co. and
Mineral Shows.Com
---
All text, specimen images, graphics & site design copyright © 1998-2012 - John Veevaert - MineralShows.com