The 2013 East Coast Show Trinity Mineral Company
Minerals can be accessed via this link : East Coast Show specimens
Like last year I dropped in on my friend Paul Pohwat to spend a day at the Smithsonian in Washington, D.C. From there it was on to Hartford, Connecticut and to the show.


Set up day at the Eastern States Exposition Hall.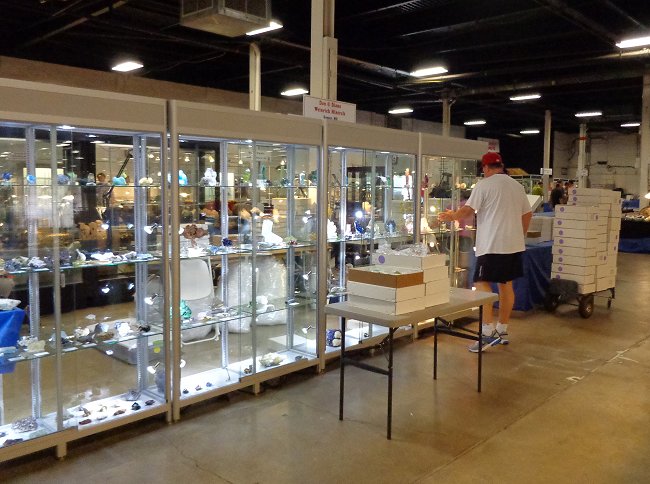 Set up day at the Weinrich's booth. That is Dan Weinrich in front of the case.
During set up I saw Isaias Casanova and he had two stunning specimens of a new find of cuprite from the Milpillas mine in Mexico. The crystals have brilliant luster and exhibit rich ruby red color in reflected incandescent lights. Just look at the next two photos!

12 cm specimen with large crystals of cuprite.

A 6.5 cm specimen with rich, red crystals of cuprite.

Denis Beals has a new find of smithsonite coating calcite. Some of the specimens have completely replaced the calcite. The smithsonite appears to be cadmium rich as several specimens display canary yellow masses of cadmiun smithsonite. The specimens come from the Level 8 zone of the San Antonio mine, Santa Eulalia, Chihuahua, Mexico.

Smithsonite fully replacing calcite and canary yellow Cd Smithsonite on this 8.8 cm specimen.

Smithsonite coating calcite on this 6.5 cm specimen.
Dudley Blauwet can always be counted on to find something new of interest. This year I saw two things he had that were new. One is a very small find of pyrochlore specimens from Stak Nala in Pakistan the other was an odd tabular shaped specimen of blue apatite from Khash, Badakhshan, Afghanistan.

Repaired elbaite with albite and reddish orange crystal of pyrochlore.

Tabular blue crystals of fluorapatite. The specimen is 4.2 cm across.
These days it seems like more mineral interest is being placed in the recylcing of collections. There was just not much in the way of new things to report on this time. So with that in mind here are several new specimens I picked up while at the show.

Two images of a 9 x 7 cm specimen of Azurite from Bisbee!

A 4.6 x 3.6 of quartz after baryte with epitaxial chalcopyrite on tetrahedrite from Herdosfoot mine in Cornwall.

A stunning 2.7 x 2.1 cm specimen of cerussite with malachite from Tsumeb!

Two images of a 4.3 x 3.4 cm specimen of liroconite from Wheal Gorland, Cornwall!
The special exhibit this year wa of specimens from the Carolyn Manchester Collection. Carolyn lives in Ohio and has rarely placed any of her collection pieces on display.

Specimens from her famous "balls" collection.

A couple of more "balls".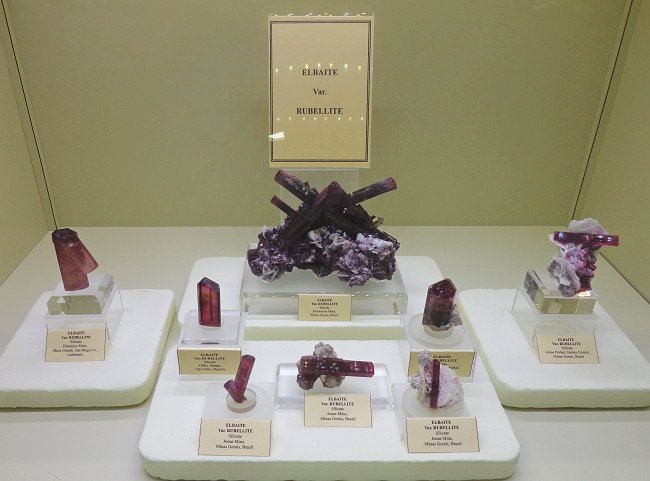 Just a few rubellite specimens...

A nice little piece of Jonas Mine elbaite!

Specimens from her pyrite suite.

Pyrite on quartz.

Two exceptional Peruvian pyrite specimens.

There they are! BENITOITE!

A marvelously sculpted gold specimen from Australia.

An incredible array of smithsonites. Hey Robison are you seeing this???

Cadmium Smithsonite from Tsumeb.

The finest cuprian smithsonite I can ever recall seeing!

A beautiful Afghan elbaite.

A beautiful suite of baryte specimens.

The center piece of the baryte suite from Frizington.

The signature specimen for the show guide - rose quartz from Brazil.

What a killer!
It was a slow show for new finds but there were plenty of good times had with friends including a dinner at Mamma Iguanas thanks to Collector's Edge.

The ever dashing a thoughtful Isaias Casanova.

Dona Leicht recording the event. Diana Weinrich in the lower right.

Geoff Krasnov (left() and Dan Weinrich and Diana Weinrich's phone.
This is what is the most fun about these shows - visiting with friends and sharing laughs. I will be here again next year. Hope to see some of you here also.
John

All images, text and stuff on these pages copyright John Veevaert -Trinity Mineral Company 2013
The material on these pages may not be used without permission.