The first annual Dallas Fine Mineral Show was most importantly a real treat for those who attended. Set in the Embassy Suites hotel on the second floor overlooking an open courtyard in view of the trees and a little pond with the resident swans Barron & Queen. The arrangement of dealers around one level allowed collectors and mineral enthusiast to walk around the open balcony setting and browse the exhibits set up in every suite. With this user-friendly environment there was plenty of space to interact and explore where your curiosity lead you.

View of the show room areas - photo courtesy of Pala International
The lineup of dealers were some of the top names in the mineral world, selected to create a well-polished conglomerate of characters. A superb assortment of mineral ikons, classics, and new arrivals were on tap. An excellent array of fossils were also available for the creature lovers. Reviews from dealers were mixed but there was a general consensus that the show carries potential looking into the future.
There were some new twists on some familiar minerals; fibrous malachite from the Congo, deeply saturated neon green apophyllite from India, and a small quartz gwindel on a bed of quartz and rutile stars from Brazil. Graeber and Himes displayed an awesome multi-colored tourmaline specimen from Maine and some new dark blue to purple fluorite from a recent find in New Mexico.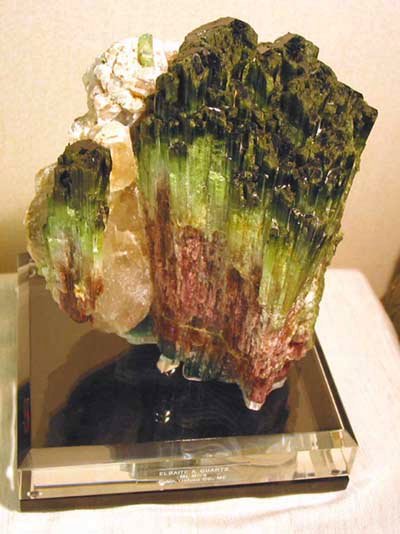 Maine elbaite on the left and the new fluorite specimens on the right - photos courtesy of Pala International
Another refreshing site was the tourmaline from the Himalaya mine in San Diego. This selection of pink and green tourmaline was part of Pala International stash that has been kept hidden away for a while. Doubly terminated bicolored specimens, "floaters", with secondary cleavelandite and lepidolite were among the best.


Hoard of Himalaya Mine tourmaline at the show - photo courtesy of Pala International.
Thomas Nagin of Crystal Springs Mining Co. had just arrived from a trip to Brazil with natural blue topaz up to 5 inches, Kunzite from the Urucum mine, rutile stars with hematite and rutile in quartz, and some spectacular pieces of alligator quartz over 2 feet across. Wilensky Minerals had in their showcases some deep red and gemmy Cinnabars from China, new blue Topaz from the classic locality of Virgem da Lapa, Several fine old Tsumeb pieces, three brilliant blue Azurites, a gem clear Cerussite, two Cobaltiansmithsonites. A truly unique specimen was the cluster of clear Herkimer Diamond quartz on actual Calcite crystal matrix.
Chris Wright of Wright's Rock Shop displayed some interesting new specimens of calcites from Jiangxi, China, pyromorphite with cerussite from Daoping Mine, Guangxi Province, China, and fluorite on spessartine (supposedly the best ever).

One of Chris Wright's new Chinese calcite specimens - photo courtesy of Chris Wright
Highlights from the weekend included the Jim & Gail Spann's soiree on Friday night at there home outside Dallas where they put on an amazing display of there fully blossomed collection. Good food, good drink and a group inspired by minerals always makes for great party.
On Saturday evening, Peter Lyckberg regaled the MAD group with his "The Best of Scandinavia" lecture, featuring tales from mineral collecting in Sweden as a child to his recent pursuits in three premier mineral localities. Peter first discussed the world's premier source of native silver, Kongsberg, Norway, showing silver wires to 30 cm. Next, he discussed his collecting adventures at the underground iron mine at Malmberget, Sweden, where he found fine orange calcite crystals to perhaps 20 cm (including the Mineralogical Record cover May June 2002). He finished with his most recent project, in Finland, which has produced large gem quality green beryl to perhaps 25 cm, many of which have been faceted and marketed as Karelia beryl.
This was a good first show in Dallas and all of the dealers there this year expect to be back next year.